A perfect campsite to discover the superb town of Roscoff!
Roscoff campsite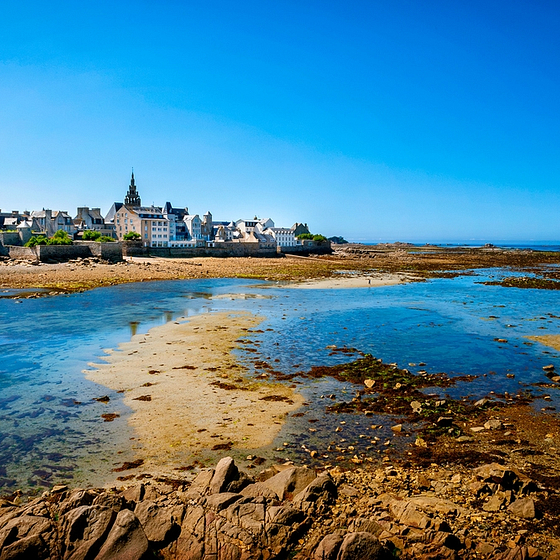 Roscoff is a former merchant town, located in the heart of the Baie de Morlaix bay in Finistère, in the north of Brittany. Home to an old port, sought-after for crab fishing, a historic market town and lovely old residences, the town has preserved its authenticity and character. Moreover it has the "Petites Cités de Caractère" – small character town – designation (for heritage protection and development). Roscoff is also famous for its magnificent sandy beaches, a piece of heaven for idleness and water sports but also the quality of the sea water, rich in trace elements (vital minerals for immunity), and perfect for thalassotherapy. Amongst other things, this Breton town enjoys a mild climate all year round, thanks to the Gulf Stream. It is a perfect destination for an excursion as a couple, or a family trip, during your holiday on our campsite. This is barely 40 kilometres from Roscoff, or around 40 minutes by car.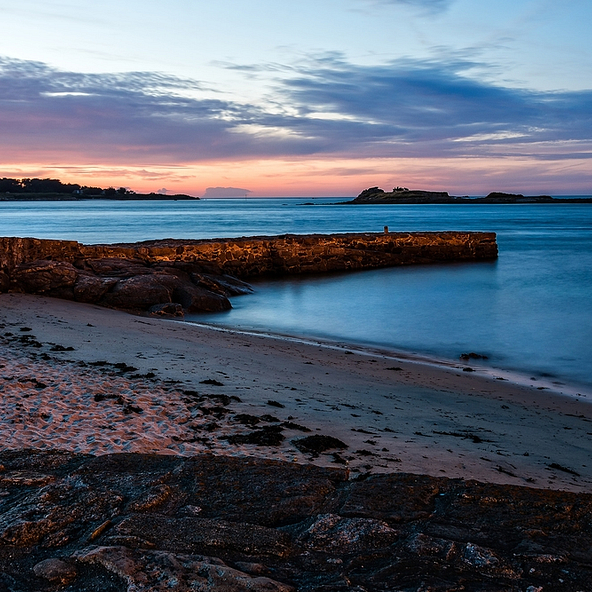 Our Roscoff campsite entices you to make the most of its haven of greenery, by the Mesqueau fishing lakes. You will be able to stay on a pitch or in an equipped mobile home, as you prefer during your holiday. Here, the mobile homes and canvas bungalows have a surface area ranging from 27 m² to 39 m². They combine comfort and the modern, being equipped with all necessary facilities, TV, Wi-Fi and more, depending upon the range you choose. The pitches set aside for tents, camper vans and caravans, are laid out within an in-bloom and wooded park. They offer space for a genuine traditional camping holiday, and of course all necessary comforts. To experience a dream holiday, our campsite near Roscoff makes available to you an indoor swimming pool, heated to 28°C with a paddling pool, for a waterfront stay in Finistère. There is also a snack bar, bread outlet, grocery and entertainment for all ages…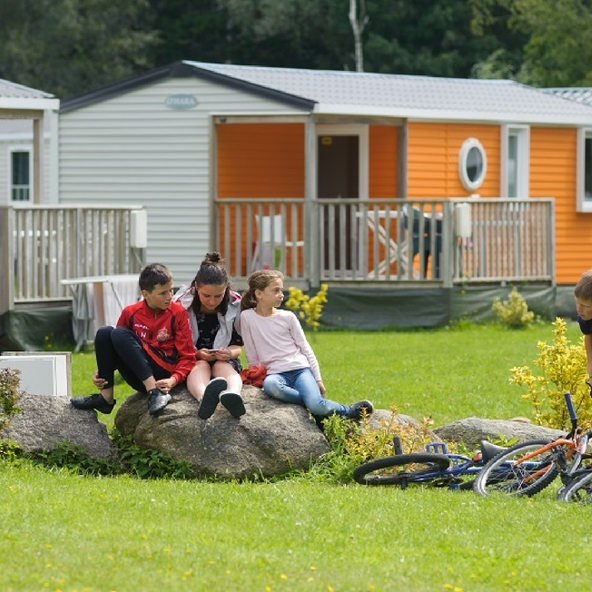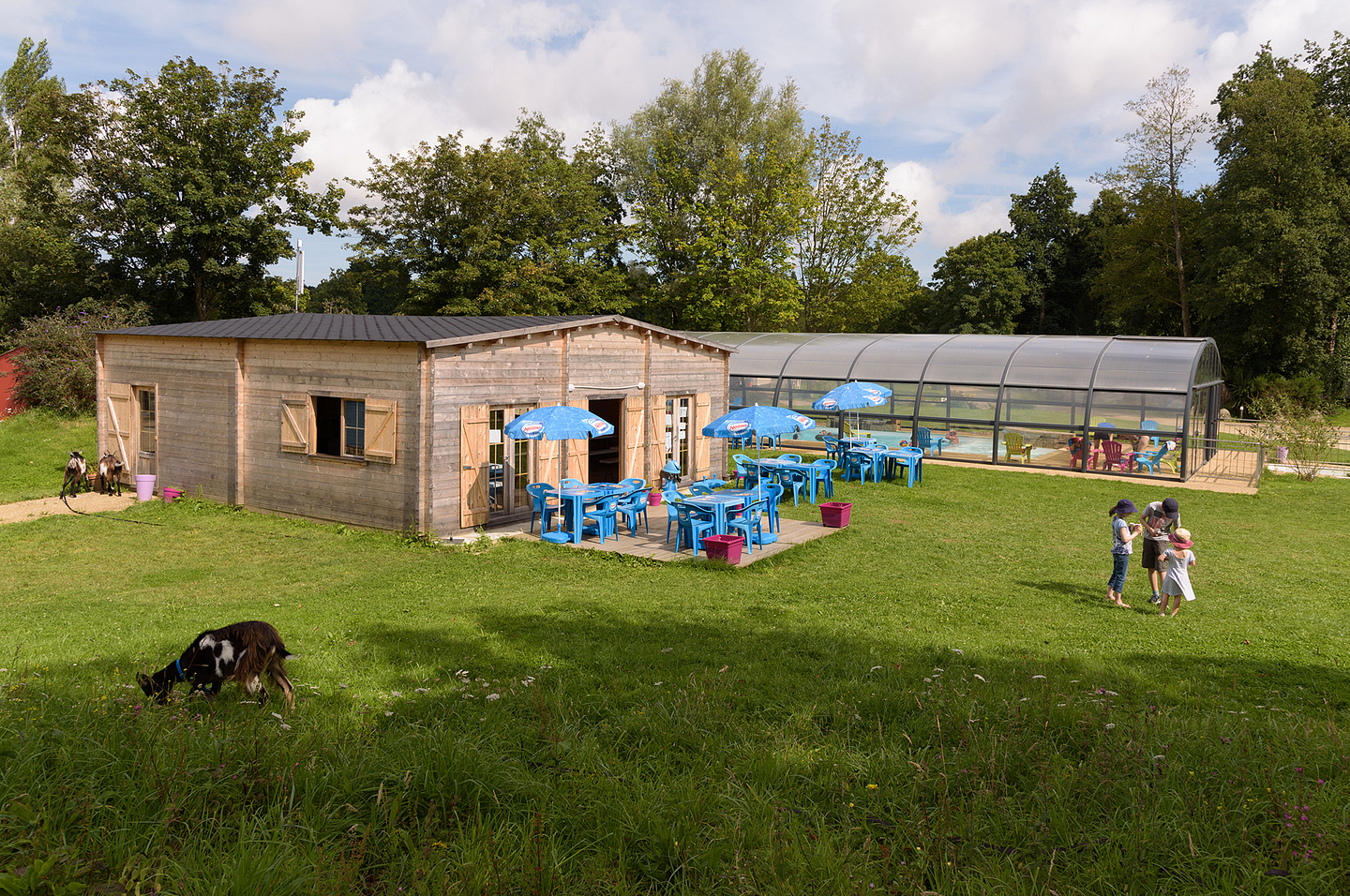 In northern Finistère, just a stone's throw from Carantec and Morlaix every year it is our pleasure to welcome holidaymakers. A genuine place of tranquillity, our campsite, close to Roscoff, is located in a 7-hectare landscaped park, where peace and tranquillity are key. At the Domaine de Mesqueau campsite, you should know that we consider our team and guests as one big family. We are very keen on offering you high-end facilities to make your stay an exceptional time...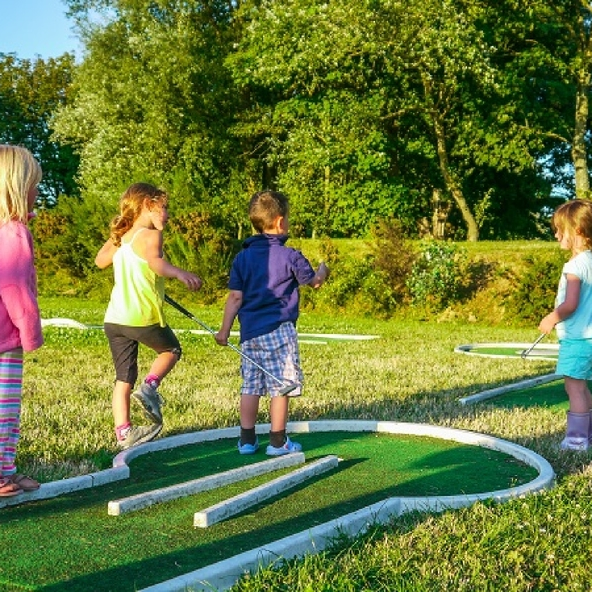 Throughout your entire holiday, we offer you the chance to take part in convivial entertainment. You have the chance to take part in sports tournaments, family games and even Chamallow (marshmallow) evenings. Do you wish to go out for a morning's cycling without the children? No worries, our Roscoff campsite will look after your little ones every morning, from Monday to Friday in the Mizzy Club! On-site, they can take part in play, craft and creative activities. We offer you numerous services, notably the possibility of enjoying bread and hot sweetbreads and buns (brioches, croissants and pains au chocolat) in the morning. We also have a mini-market to facilitate your shopping, tourist information about the region, and a lending service for all kinds of equipment.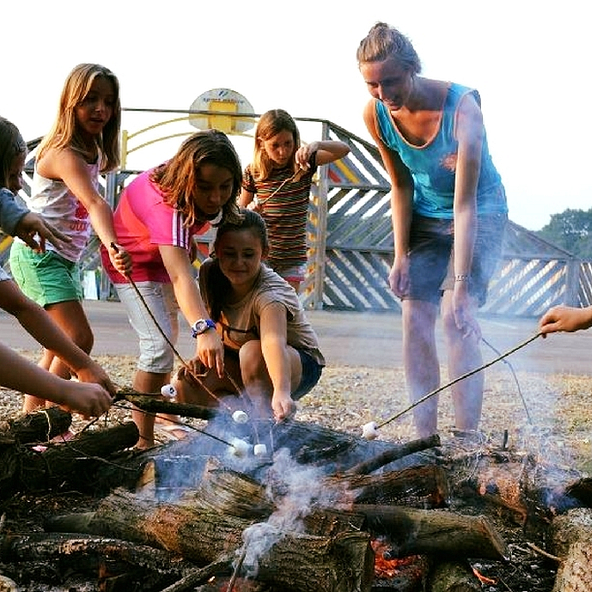 A leading
tourist destination in Brittany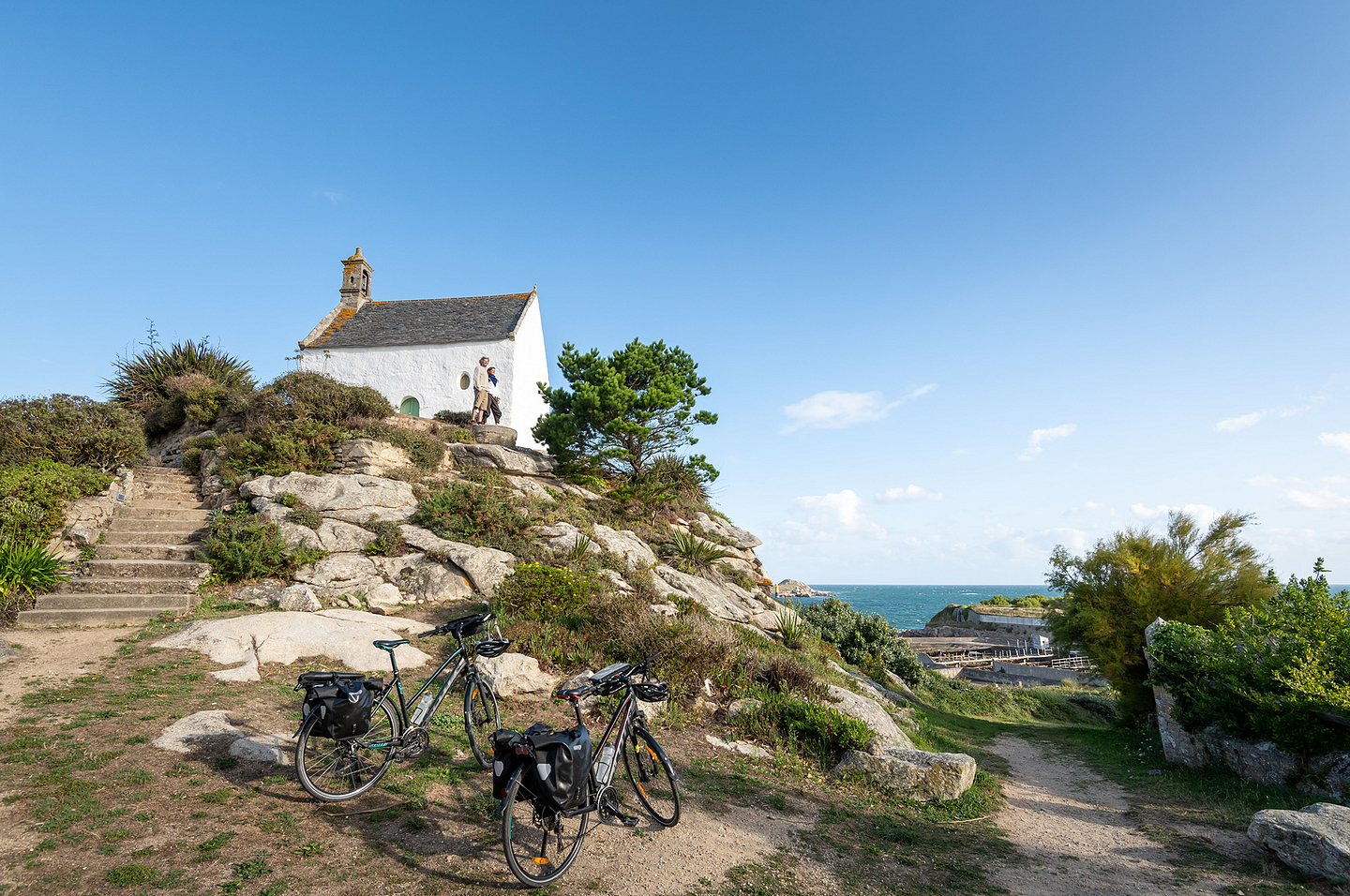 © BERTHIER Emmanuel
The Le Domaine de Mesqueau campsite enjoys a perfect location, as it is located not far from one of the most delightful towns in Brittany: Roscoff. The visit to this leading tourist destination in Brittany is a dream opportunity, to discover its preserved heritage. A short walk in the heart of the town to admire the authentic pink granite residences, the listed buildings – the House of Mary Stuart (Mary, Queen of Scots) and the 16th century Notre Dame de Croaz Batz church, with superb multi-coloured décor. Stop at the Criée (fish auction) and then at the Maison des Johnnies et de l'Oignon de Roscoff. The latter is a museum providing a history of local producers who sold pink onions in Great Britain.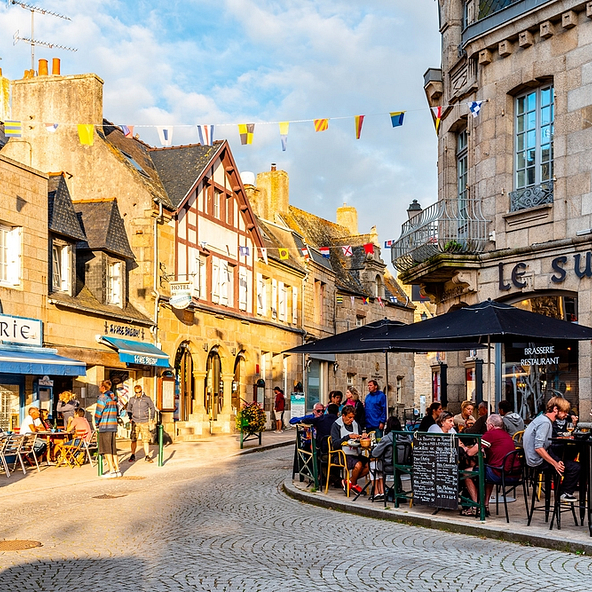 Roscoff
The Jardin Exotique et Botanique de Roscoff exotic garden, the Sainte Barbe peninsula, and the old port are also worth several visits. Of course, the fine sandy beaches are also must-sees so that your body rests and your mind relaxes. Here, you can freely indulge in idleness, sailing and water sports and make the most of the benefits of thalassotherapy. Some do not delay in going along the Côte des Sables coast to Plouescat by bike to discover the idyllic landscapes of the Keremma dunes, or even head for the Ile de Batz island, only 15 minutes from the town. Traditional festivals, such as the Fête de l'Oignon (Roscoff onion festival), evening trips and local cuisine are also some of the attractions to discover during your camping holiday in Roscoff.
© BERTHIER Emmanuel
Located in a landscaped park of 7 hectares, we have lovely green spaces, that we wish to preserve, and which every day we keep immaculate. To respect this natural area, so precious to us, we have chosen to make the campsite 100% pedestrian. This enables us to preserve all the tranquillity of our site, but also ensure genuine safety for young and old alike. No more engine noise! In our ecological outdoor establishment in Brittany, instead you hear the birdsong...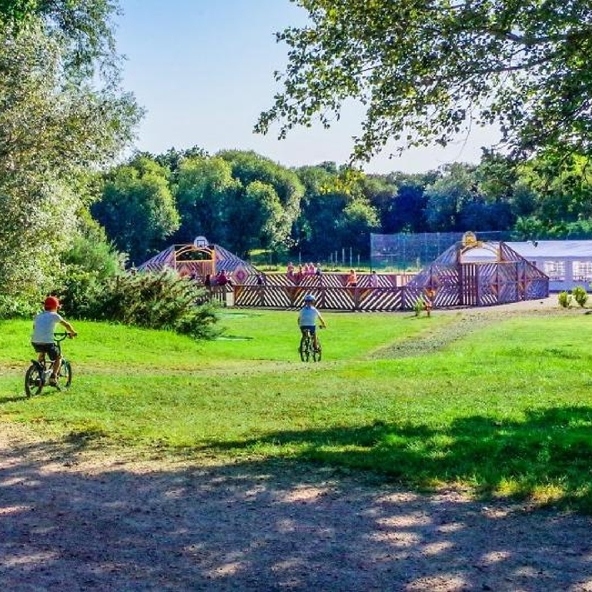 Our ambition, ensuring you the maximum comfort during your holiday! Located on plots of up to 800 m², our premium cottages meet all your needs. Spacious and cosy bedrooms, 2 bathrooms, a fully equipped living area/kitchen, immaculate décor...This accommodation has it all! On the Le Domaine de Mesqueau, we also have magnificent pitches, with an average surface area of 150 m². All equipped with an electrical connection, the plots on our Roscoff campsite are green and perfectly maintained.